Boiler Repairs
San Jose Boiler Repair & Installation Services

Is an old boiler failing to heat your home? Call us at (408) 283-0600 and get industry leading San Jose boiler repair services today!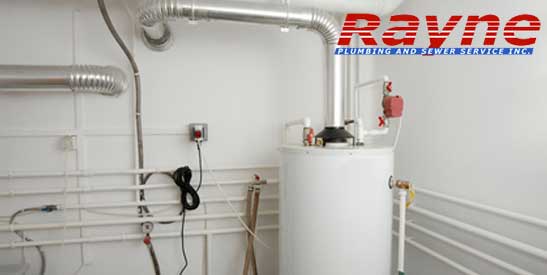 When it comes to the boiler in your home, apartment, or commercial property, it is important to understand that like any other plumbing component, it required care and service. Over time these units can break down and require the service of plumbing professionals. At Rayne Plumbing & Sewer Service, Inc. we are your one stop shop for expert San Jose boiler repair services. See what some of our past customers have to say here, and call us today!
What are some signs that you need to repair your boiler?
Leaks: One sign that a boiler needs to be repaired is if there is a minor leak in the tank that holds the water. If the leak is extremely minor and seems to have a clear cause, such as a sharp object near the tank, then the leak can easily be patched.

Damaged heating source: Another sign that the boiler might be in need of repair is if the pilot light keeps going out and there is no source of heat. This can prevent your unit from functioning at all and will require professional services to ensure it stays lit.

Noises: If there are unusual noises coming from the boiler, such as those that occur when it is kettling. This could indicate that there is a minor issue that will need to be resolved.
Through the use of our professional services, you can ensure that the boiler in your property is diagnosed correctly and in working order.
When should you replace your unit?
A major sign that the boiler will need to be replaced is if there is uneven heating throughout the house during the day. This could indicate that there are major problems with the boiler that might not be able to be repaired completely.
Another sign is the age of the boiler. If the boiler is extremely old, then it needs to be replaced before it has the chance to break down. Should it break down, it can create and uncomfortable situation in the home and lead to very low temperature levels.
Finally, if the boiler is not producing any heat at all or has any major leaks, then it will definitely need to be replaced as soon as possible.
Our experts have the experience and tools to not only help you choose the best unit for your home, but also install it at a high level. We will provide you with efficient solutions and ensure that all services performed are done to factory standards.
What is done during maintenance services?
There are many different parts that need to be inspected regularly as part of boiler maintenance. These parts include:
Thermostat
Pressure gauge
Low-water cutoff
Drains
Filters and strainers
It is also important to test anything that is supposed to be airtight, including shut-off valves, to ensure that should they be needed, they function correctly. Our experts can provide you with efficient and long lasting solutions to guarantee that the boiler in your property is working optimally year round.
Looking for the best San Jose boiler services? Call us at (408) 283-0600 and get industry leading repairs, maintenance, and replacement services today!